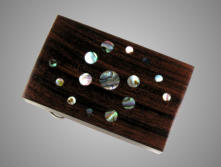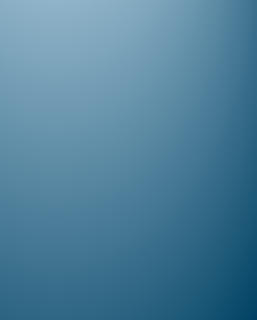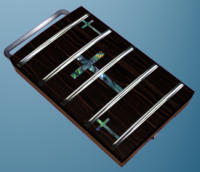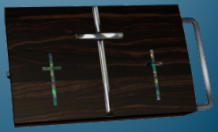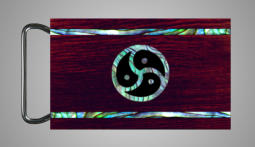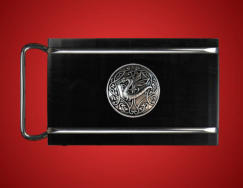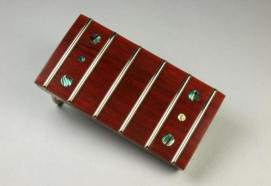 Click thumbnail to enlarge
Nashville Fret Designs © 2017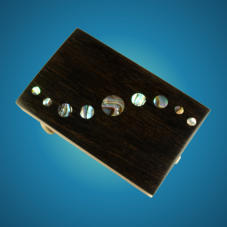 Earth & Moon Phases
This was a customer request for her
astronomy major/guitar player boyfriend.
Tropical Seas
Another customer request.
Longer for Bigger Folks
If someone is the size of a northern lumberjack
our standard buckle is just too small. For this
buckle we added an extra fret and more inlays.
It may have still looked small on him, but we're
not going to argue.
Custom Inlays
We don't do custom inlay work, typically it's
labor intensive and requires skill and
patience. Almost any inlay work would
double the cost of the buckle and the cost
would go up from there. We were lucky
with the Triskelion design, the inlay fit
perfectly in a 1" round hole. We then used
some black epoxy as the interior filler and
sanded everything smooth.
Celtic Triskelion
A very nice woman from Canada was buying
buckles for her family for Christmas. She
asked us if we had an idea for a Celtic design
so we sent her to a great shell inlay site LINK .
She found the Triskelion and we used it in her
buckle. The Camatillo wood had a deep
brownish wine red and was perfect for the
design.
Nebula
A customer request for a space nebula
look. This uses three different sized
Abalone inlays placed at high precision
coordinate locations based on advanced
data from the Hagel Orbital Telescope.
(

what telescope??

)
The things we do for relatives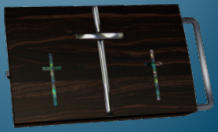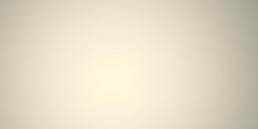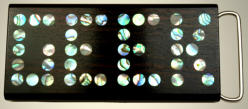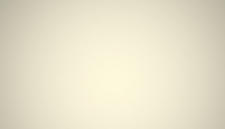 Crosses
These are CG proposals for a cross motif design.
Dragon Buckle
A friend of ours showed us a large
pewter button and asked if we could
use it in buckle.